Long time collaborator and fellow Paradizer, Cooper, has been releasing games (and some other stuff) for the Atari ST range of computers for more than 10 years now. For his latest game, he decided to do a Kickstarter, but on his own terms!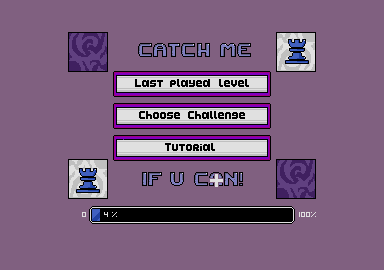 In order to gauge interest from people and to promote his game, he decided to give it to people that actually register for it, but instead of just taking their money he'll do a lottery with the winner getting a working Atari Falcon030! It seems that enough people registered for the lottery to take place so it seems that his release model worked!
Now, about the game itself: You get a 4x4 chess grid where inside there are placed some chess pieces. The goal of the game is for the player to take a piece with each move and end up with just one piece in the board. Sounds easy? Well, 400 levels await those who dare take up the challenge, and it's really enjoyable. As a puzzle fan I found the idea really interesting, and I had to force myself to quit the game in order to write this interview, and that can't be a bad thing! (actually I booted Steem engine just to grab some screenshots, and kept saying "one more level"!) . By the way, take care because the pawn can only move upwards!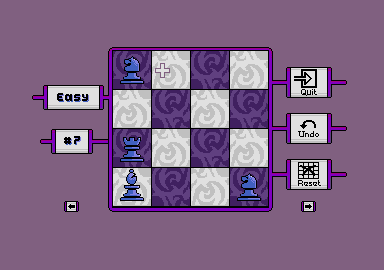 The graphics as usual are very polished and pleasant. Sometimes I can't tell the pieces apart, maybe another piece set could be drawn? The music consists of a lot of looped samples, so you don't get bored easy (one thing I noticed is that the samples are packed and it takes a few moments for the game to load and unpack the next, leading to a small gap in gameplay. Maybe there should be an option to unpack the samples for faster loading times?).  There are a few glitches I noticed, but these track down to me not running the game from ST low resolution, so they're insignificant.
All in all, a great game for puzzle heads, and one I'll be personally be coming back to quite often. Well done!
P.S. I'm not sure how you can order it right now, but the homepage of the game is http://www.jegagneunfalcon.fr,  perhaps contacting Cooper by e-mail (his address is on the Paradize homepage) will clear things up!