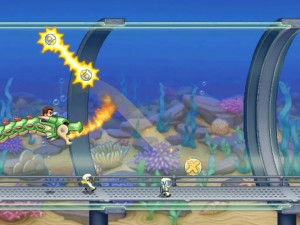 Jetpack Joyride, an amazing little game exclusive to iOS, has been sucking away much of my time lately. Continuing in the tradition of "one button gameplay" games that have seen a proliferation on touchscreen devices, you guide a character with a "machine gun jetpack" through a long laboratory of evil scientists, with your simple goal of trying to make it as far as possible. Along the way, there are coins to collect, vehicles to steal, scientists to terrorize, and an ever increasing array of malicious obstacles to avoid.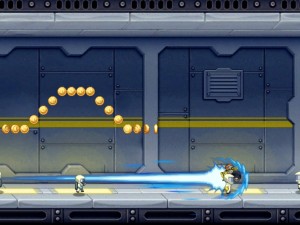 Since most one button games tend to be pretty simplistic in terms of their gameplay, the developers have added a slew of features to keep the replayability of the game continously fresh. You can level your character up by completing simple missions that are assigned to you, and can purchase a wide selection of upgrades and enhancements for your character, which is done by collecting coins throughout each game. To top it all off, bonuses can be won off a slot machine at the end of each run, depending on the collection of spin tokens that are collected.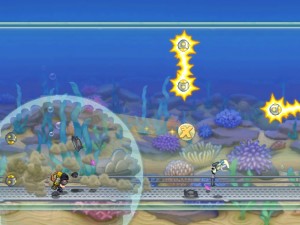 This game offers an incredibly deep and rich experience which is hard to put down. The price also can't be beat, either...the game is completely free! Anyone with an iOS device would do well to download this game through the Apple App Store.