Here's yet another old but not forgotten gem (at least by me!). Tri-Heli 2 seems really easy at first sight: maneuver a helicopter around a scrolling terrain, where there are some diamonds buried. The copter is armed with infinite bombs so you can bomb the ground and open a small crater where the explosion happens. Make enough of them in strategic places and the diamonds will be unearthed and you will be able to pick them up and take them straight back to the base.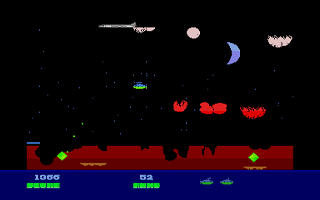 To make things more challenging, a plane files across the top and throws bags of dirt (I think!) where you open craters, so they can potentially clog up all your hard work and you have to start again. You have to be either really quick about it or more cunning: open up several bogus spots on the ground so that the plane will not cover up your areas of interest. That's really good fun when you manage and outsmart it or maneuver around dirt at the last moment.
But things get even more challenging as the levels pass by with another game feature: the ground level starts going up, and the diamonds are potentially buried much lower under the ground. Which means you start making up complete mines just to unearth one diamond. And of course it is all too easy to get trapped inside if the airplane covers your entry point - d'oh! No amount of words can describe the agony you have and the pleasure you get when you go to the surface with a diamond got from way below!
Give it a try, you won't regret it!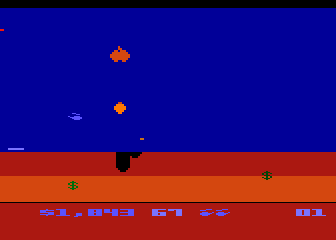 And if you like the Atari 800 better, here's Buried Bucks, the game that most definitely inspired Tri-Heli 2. Coded by Tom Hudson no less!