INTRO
Ok people. So it is a massive relief to finally get the SNDH update into the public arena! Work began straight after v4.7 in early 2018. Since then we have ripped and added literally 100's of musics from games and demos. I remember thinking to myself in the early 2000s that most tunes are now ripped. How wrong was I! It seems the more you look, the more you find, with weird unknown stuff surfacing periodically.
I am very proud of this archive, we may not be as huge as the HVSC, but we are its Atari ST equivalent and the "goto" site for users after YM goodness.
NASTY TUNES
So back with v4.8. What is pleasing this time round is we've had some assistance from other coders/rippers. Normally it falls to myself and Evil/DHS to rip and convert music. But this time we have had outside assistance from GGN/KÜA, Metal Ages/Cybernetics, tronic, Meynaf and Leonard/Oxygene. Special mention to the latter two who ripped some nasty tunes.
If you frequent the Amiga scene you may have heard of Meynaf. He converts Atari ST games to the Amiga e.g. Supersprint and Gauntlet. A while ago he contacted me saying he had ripped some ST tunes. So thanks to him you can now listen to Maniac Mansion, Larry III, Zak McKracken, Loom and ST Dragon.
Another massive thanks goes to super-coder Leonard from Oxygene who I met at the ST News conference in 2000. He was the guy that finally broke the 09-13 protection. I'll meander back a bit to 2015. So there I was in rural Netherlands having a nice lasagne with a Greek guy and some French fellows.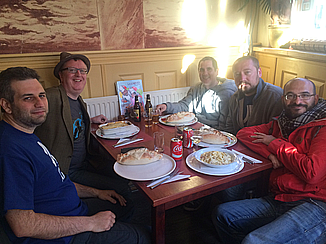 GGN, Grazey, t0my, Ukko & Fra
The conversation turned from the drab fodder to t0my's 09-13 demo. The production had an amazing intro sequence, but what really stood out were the funky tunes from UltraSyd. RIP guy :( At this point Tomy boasted about the protection in the demo which prevented the tunes from being ripped into SNDH. At the time I said I would rather spend my free time, which seems to diminish year on year!, on accessible tunes rather than waste my energies on barriers put in place in the 21st century! And, so that is how things were left - well until late 2019. I then got a message from Leonard, primarily regarding the SID technique used in my HIPSID demo. However in one of his chats he casually mentioned that he would look at the 09-13 music protection!
We all know Leonard is exceptionally talented and very soon he had extracted all the files and created stand-alone SNDH files! Here are some excerpts from Leonard explaing how he did it :
Basically I heavily used SainT to debug & trace the code. The protection is a trace mode decoding and re-encoding backward. Encrypted blocks of code always start with an "illegal" instruction, and stop with another "illegal" freshly decoded by patching the decoding routine in SainT debugger to avoid "re-encoding" backward, I decoded all the parts, and can run the demo without any encoded part. There are only two blocks encoded: one ran at music init, and one ran each music tick. I saved these two blocks, then I used Saint debugger to breakpoint after depacking each file, to get the exact music file size, and looked at maxymiser player to get exact player rate. Quite some work!
All I needed to do was fix the tunes so they could restart then we were done. I think it is paticularly fitting that UltraSyd's tunes will now have a wider audience, one his songs richly quite rightly deserves.
HUBBY Goldrunner finally 100%
One tune which really deserved a complete revamp was Goldrunner. The tune was originally composed for the C64 game Human Race. Goldrunner was one of the first releases to show off the ST's extended palette and super smooth scrolling - well it was vertical scrolling after all! Steve Bak, RIP :( worked closely with Rob on the sound-driver and added sampled speech - one of the first ST games to have this. In those old lame days I just ripped the YM replay. On a dreary covid Sunday in 2020 I decided to revisit the code and extract the sample play back. So another tune makes it to SNDH, to be heard how it was originally intended :)
Ok, what should I check out?
700+ new or updated tunes, quite overwhelming. So here's a few of my recommendations - quality wise , or just plain obscure!
Robocop - Peter Johnson : Another tune now with its sample part.
Rebirth - Anthony Rother : What, a 1mb SNDH? oh yes.
44 - Tat : Why do I like it? I don't know, but I do!
Agressive Hornet - gwEm : Good to code to!
Ambermoon - Big Alex : Can the YM do bagpipes? certainly can.
Journey to the Stars - Draxx : Now, why weren't more tunes composed with the mini-sound-machine.
Grimey - Damo : Grimey, init.
Super Mega Turrican : !cube : He does it again.
Smooth Cryminals - Timbral : or indeed anything from Faker Bashing!
Honda RVF - Nick Moorbath : Brings back good memories.
Basic Ttrak - Tomchi : Fresh sound.
To Be On Top - Mad Max : A pain to rip, 3 different music drivers.
ST Karate - Janko Mrsic Flogel : Works via MIDI too!
Love Potion - Excellence in Art : Quite a few Arkos tracker songs make it here now.
FirST Love - Jess : He's baaaack.
Tonic Tile - Paul Seneville - One for demo aficionados.
Championship Wrestling - David Thiel : It looks crap now, but not in the day.
USS John Young - Jesper Kid : Yes, it really does sound like this.
Gauntlet II - Bill Allen : You need food badly.
ultrabooST - Tao : Needs a real ST at the mo, more on that later.
Athanor 2 - DMA-SC : 24 sub tunes from the French maestro.
The future - compatibility
Ok that's all for now. In the next blog post I may write more regarding the intro and other developments in the SNDH world. Finally, please note note all the SNDH files work on a REAL ST. However there are still issues using the two major non-ST players - Winjam & sc68 (hi abyss, tao and ben!) . I know that the developers are aware of this and are actively endeavouring to update their software. Fingers crossed that new versions appear soon!
Grazey February 2023.